At Ridgeview Gardens, breakfast is a special time where guests can relax and plan their day ahead, while enjoying one of our varied, and always-fresh-daily specialties.
Our breakfasts are all about choices. Because we understand that each of our guests are individuals with different tastes, we offer an ever-changing daily menu from which they can select their preferences.
There are a wide range of choices to please - from sweet, to savoury, to the hearty or light appetite.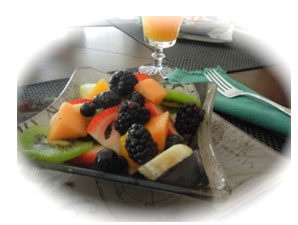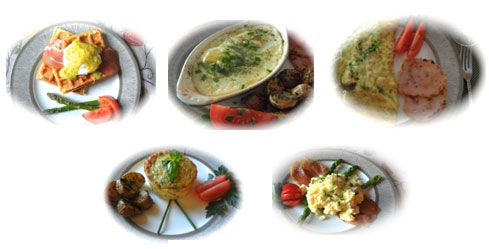 Start your morning with a pot of freshly brewed Salt Spring Island or Kicking Horse organic fair trade coffee, or a selection of regular and herbal teas, including some from Harrods and Fortnum & Mason of London.
Try our tasty egg dishes from the simple but delicious creamy tarragon scrambled eggs with prosciutto and asparagus, a delicate basil & bacon egg soufflé, a fluffy mushroom & gruyere omelette. Or, you could venture forth internationally and order our Tuscan Eggs – Deliziosa!
For those with a sweet tooth, our light and delicate Lemon Ricotta Pancakes, classic French Toast and decadent Belgian Waffles are sure to please.

Lighter Fare

For the Sweet Tooth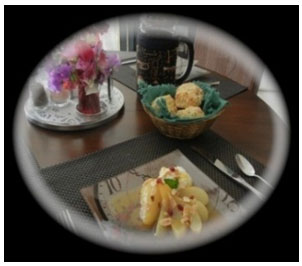 To complement your entrée choice, every day we offer a variety of items such as juices, (including fresh squeezed OJ), fresh fruit or berries, cereals, yoghurts, freshly baked muffins/scones, and of course our home made cinnamon buns, muesli and reduced fat granola.
We are always happy to accommodate special dietary requirements. If you let us know when making your reservation, we can be prepared, and offer you a complement of dietary choices to make your breakfast pleasurable.